Cryo + Derma
Effectively relieves skin symptoms and infections such as acne and other skin infections
X°Cryo™ boosters
Choose the one for your needs
Cryo + Fysio
This product is specifically intended for the treatment of muscle and joint pain
All X°Cryo booster fluids are based on the combination of Micellar water, argan oil and various ingredients which protect and moisturize the skin
One special feature of Micellar water is its ability to bind both skin and booster-added Argan oil into microscopically small spheres that adhere to the pores. When this liquid is evaporated from the surface of the skin during a super cold treatment, two important aspects of the treatment result are evaporated.
Evaporation of the ball-oil-filled beads removes about 50% more heat than normal from the tissue of the area to be treated, and the argan oil droplets remaining in the jar freeze below the freezing point (minus 3 to 5) and results to the prolonging feeling of cold for several minutes after treatment. This significantly improves the treatment time and efficiency when using them.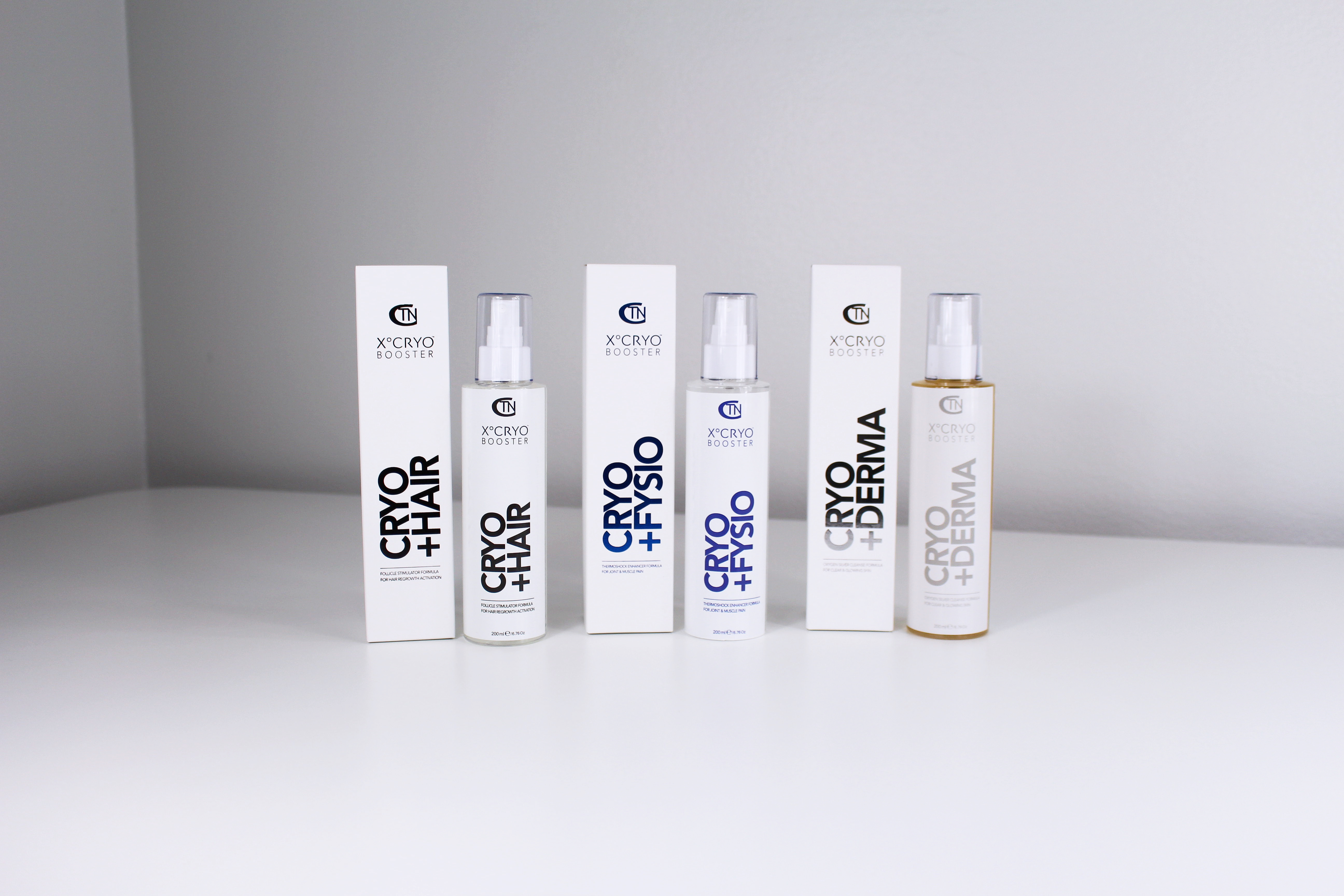 Each treatment has its own products
Cryo + Derma
One-Step Micellar Water, a compound of Argan oil and many other skin-friendly ingredients. Boosts the skin's thermoshock, effectively relieves skin symptoms and infections such as acne and other skin infections. Argan oil soothes, moisturizes and keeps the skin cool even after treatment great for removing any puffiness. Part of the patented X°Cryo™ treatment method. Special ingredients include Haymaking extract, Pigmeat extract, Iron birch extract, Sage extract, Zinc and Vitamin C.
Cryo + Fysio
A product developed for physiotherapy-related cryotherapy treatments. In addition to basic ingredients, this product includes e.g. Panthenol, Peppermint Oil, Juniper Extract, Hop Extract, Ground Extract, Flower Extract, Vitamin C and Retinol. This product is specifically intended for the treatment of muscle and joint pain.
Cryo + Hair
Product designed for restoring and revitalizing the hairstyle business. Clearly improves the rate and duration of treatment for scalp. Includes normal ingredients, among others the following boosters: Castor oil, Burdock root extract, Ginger extract and nettle extract all great ingredients known for boosting  and promoting hair growth.
Find out more about X°Cryo boosters